Green Soul Gaming Chairs
BLOG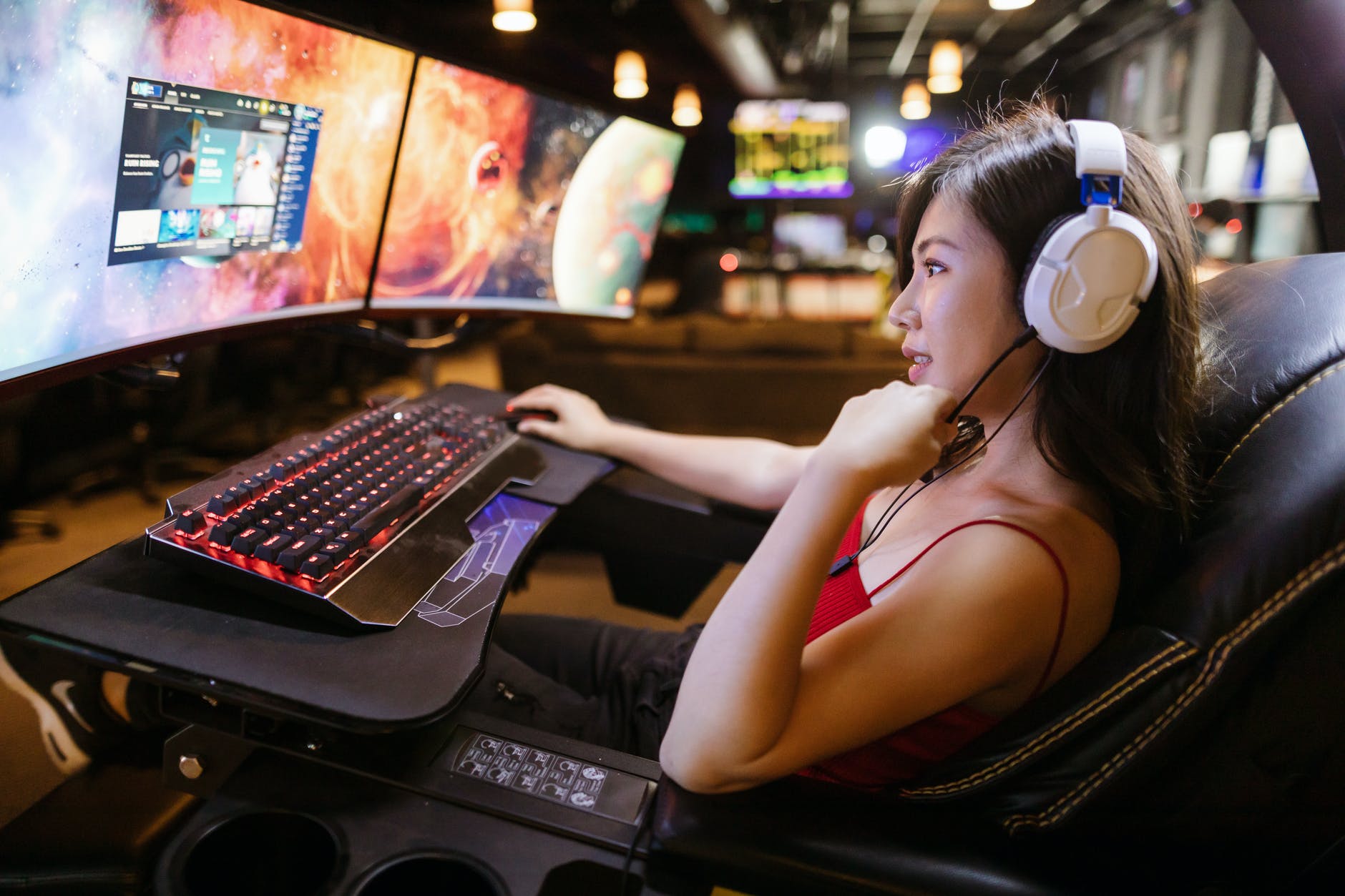 Complete List
Description
● Internal Frame Material: Metal ● Frame Size: Large ● Upholstery Material: Perforated PU Leather ● Neck/Head Pillow: Yes ● Lumbar Pillow: Yes (Memory Foam) ● Foam Type: Seat made of Moulded ● Seat Style: Racing Car Bucket Seat; ● Mechanism Type: Butterfly Mechanism ● Armrests: Carbon Texture 4...
User reviews
After a gamer friend of mine purchased the Monster version of the chair from green soul, I decided to go for the upgraded version, the Fiction. By far, one of the best purchases I have made. The chair is easy to assemble, fair, clear instructions on assembly, took me about 40 to 45 minutes individually. If you have someone to asemble with, it could be done within 20 to 30 minutes.Speaking of the comfort, I have found the chair to be extremely comfortable and ergonomic for the back. Although I do not use the neck support because I feel the cushion is a tad bit thicker, no complaints though.Chair goes all the way 180 degrees to the back. Its multiple adjustments make it possible to adjust the seating, hand rest in all ways possible. That's brilliant.Lastly, the customer service is outstanding. The guys at green soul, (mr. Tarun who was in contact with me) called me to ask if the product had been delivered, any issues with the delivery, or assembly, and overall the exprience was quite fantastic. 10/10 would recommend further.
Great follow up and support from Green Soul as well. Installation was with their instructions.I couldn't try out the chair long enough to provide a comprehensive review. So far extremely good.
Really 10/10... Never experienced such good quality and professional follow up after sales of a product. Very easy to assemble with the screws and tool and gloves provided. All functions including the hydraulic work as expected. Overall I am extremely happy with my purchase. Will definately recommend.
Green Soul Monster Ultimate (S) Multi-Functional Chair (GS-734US) (FullBlack)
Description
Gamer or a professional no one likes to be constant in their work, everyone wants to extend their boundaries and limits to grow in life. Similarly, we at Green Soul could not settle with just Monster and Monster Pro, we too extended our limits and went that extra mile to give you the Ultimate...
User reviews
Awesome chair if you sit in front of the computer for a long term use. Extremely comfortable with the 4D arm rest and the soft cushion. Seller was ready with the quick response for all my questions. Delivery came to bangalore in 22 days from the day i ordered and it came via FedEx. Assembly takes some effort to it and it will be helpful if you have a helping hand. I did it alone and was difficult at a certain point. Once you set it up, it is very sturdy. The wheels are of great quality and the stand is metal so it is very strong and can take some serious weights.About the Cons: Wish it was a Amazon prime product as the delivery takes a long time and also FedEx guys weren't helpful as it wasn't their "priority shipping" product. The 180 degree tilt feels scary when the chair is lifted all the way. Somewhere around 150 degree feels safe. There is no SAFETY LOCK to prevent the fall.I recommend it for all the gamers and developers who are looking for joyful experience.
Bought this gaming chair for replacing my old chair in my office. So far so good, really love it!!Couples of pros:1) Easy to assemble, you need about 20 minutes to put it together, the chair come with detailed user guide and necessary tools which can help you to assemble the chair more easily;2) The leather, the inside materials, pillows are really soft and smooth, very comfortable for sitting on it; The appearance design is super cool and very modern and stylish.3) Extreme high quality, because of the metal material support design, the chair is very heavy, which increases the stability of the chair;4) Excellent ergonomic design, very comfortable to sit on the chair, the chair back can be put down to flat condition, because of the heavy weight, you don't need to worry about falling down when you lie down on the chair;5) Super resealable price.For such a gaming chair with high quality, good looking, good leather material. The price is super competitive!6) The suspension seems solid and isn't being compressed too much by my weight.7) The levers are firm and I can easily distinguish where and when it locks into place when I lean back the chair, I can almost lean the chair completely flat and with putting all my weight back the chair remains balanced.8) The arms will fit underneath a standard size desk.9) The head and back lumbar support are adjustable10)Great customer service.Cons:1) I felt arm rest little small in legnth or may be because of my sitting postion.That's it overall its a great chair. Highly recommend it!
Your browser does not support HTML5 video.  I bought my first desk chair in 2009. Last week I bought this one. And I must its worth the wait. The best feature of this chair which I am loving the most is the Back Support. I have never felt such way before. It so comfortable. My height is 5.6" and its perfect for me. If you have the budget then do not go for another chair.The packing was perfect. I only had trouble fitting the wheels. After 20 mins of wrestling with it I was able to add the 5 wheels. Rest of the assembling was easy and very straight forward if you follow the diagrams provided in the box.Great job @GreenSoul.
Green Soul Beast Series Fabric and PU Leather Gaming/Ergonomic Chair in GS-600 (Full Black)
Description
★ Internal frame material: Metal, Upholstery cover: Fabric & PU Leather | Color: Armour Black; ★ More breathable than a leather chair, the beast chair comes with a breathable soft fabric allows air-flow that provides a cool and comfortable sitting position & keeps the air flowing on your back for...
User reviews
I bought this product on 14 October 2018 and recieved it 1 month later. Their office or distributor seems to be located in Mumbai so it took them time to deliver. FedEx had shipped it.Pros:1. Good price2. Material used isnt leather or synthetic so it isnt causing any heat or sweat issue at all till now3. Foam Application is good ... ( sort of .. read more to know )4. Has basically all features.Cons:1. Foam Application is good... but not as properly planned as you would expect. Where indicated with fingers in the pictures, the foam seems to be broken and simply slides around the iron bars causing the iron bar to constantly hit your leg and hurt you.2. Gathers a lot of debris real fast, you may or may not consider this depending whether you like the leather or this type of fabric that does not let heat and sweat collect.3. The headrest and backrest pillow supports are too thick.*** A note to all ************ Amazon weirdly didnt update my order even after i recieved it and was only updated after the product return date was already over, idk what the heck is that about but seriously be aware of this.Also dont just sign up for the warranty until the amazon date is over. Even when you are suggested to, be aware of the retailer and the seller descriptions. **********Detailed review:I received this product 1 month after purchase which was already noted on the website page ( amazon in this case ). The installation is pretty easy and straightforward. All details about wrenches and screws are already given with instructions about the installation process. However the problem comes when you try to get used to this chair. The structure of the chair has iron bars inside, rounded bars. This causes problems where the foam application is not appropriate and can cause serious discomfort and pain if used for long hours, which this chair is meant for. As you can see the side supports for legs, as denoted in the picture has some issues so i had to get the lower part replaced as i didn't knew it was a model fault not a manufacturing fault. Sadly this design only has proper foaming till a point where the sitting area begins. To avoid overlapping and improper fit they made the foam adjustable which in fact exposes the iron rod that continuously hits your legs.Service being a really great area of this company, they had a constant connection with me via their employee through whatsapp, any problem i faced i had the contact in my hand and didn't need to call the company or wait for hours for response. However they said my problem was first of the kind and they took quite some time to get this resolved, after waiting a few days they came up with the solution to either buy me a cushion to sit upon ( they would pay ) or i should get the lower sitting part replaced with them ( again shipping and everything they arrange ), all i had to was pack the seat properly.After getting a replacement which amazingly only took about 1 week or a little more, i had the replacement with me, only to notice it had gone under delivery faults. This of course i cannot blame on the company itself, but sadly on my luck. I didn't have the patience to get it replaced again or any other action and am continuing to use it as it is.About service, before the product was reached, i was contacted by their employee directly through whatsapp and phone, from thereon i was in contact with them continuously. The contact person didn't change and remained same, so it was easier for me to be in touch with them.The lumber support and the headrest cushion are too thick and contain same quality foam as the chair, therefore making it a little hard to get adjusted to and for them to take shape accordingly to your body's pressure. Although i would recommend using them according to your sitting postures as they can help you improve your posture. When laying back or having your legs folded i remove both in order to rest my back fully on the back of the chair. The tilt of head portion on the chair is a tiny bit tighter, it is uncomfortable for long period use.Hopefully you find my review useful and informative, service is 10/10 no regrets about that, but remember you should know what you are buying, keep in mind the quality, the fabric, the tilt, the everything and other aspects to the product.
Let me start by saying that all positive reviews that you see about Green Soul products are genuine as there was nothing that I experienced differently.From tracking till assistance in assembly is all done professionally.Great quality and ergonomics, full marks on quality of parts and detailing.We should all encourage companies like Green Soul as these are examples of world class products from India.I recently started buying products from startups like Wakefit and Green Soul and i feel my money is well spent
One star because green soul company is here to only make money they don't care about their customers My recommendation to all inocent customer don't buy their product I stuck to buy this chair n quality of chair is so bad in image its look good but actually quality of product is so bad n foam is also so hard u can't seat more than 2-3 hour